Home
>
Census instructions
School Survey Data for Non-State Schools - Qld 2022
Instructions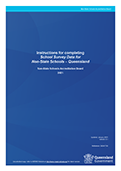 Download the full Instructions for completing School Survey for Non-State Schools - Queensland 2022 [PDF 5.2MB].
Alternatively, use the navigation on the left to navigate to individual sections.
Download 'Are you ready?' [PDF 258kb] to help you prepare for the upcoming Census 2022.
A preview form has been made available for viewing before Census Day.
Refer to the Eligibility chart [PDF 146kb] to see whether a student can be included and in which section.
All enrolment, attendance and related documentation used in completing the Census form is to be retained by the school/governing body for a period of five years from Census Day, and in a way that ensures the integrity and security of the data and documents.
Last updated 25 January, 2022